AMRO-Art Meets Radical Openness
http://www.radical-openness.org/
The event is rooted in the successful Free Software movement of the early 2000s. In conjunction with the Austrian-wide initiative Linux Weeks, servus.at was a co-organizer from the beginning with an event in Linz (LiWoLi – "Linux Weeks Linz")
The cultural, artistic and socio-political focus of the association, which is still marked by the spirit of the Free Software movement, has been systematically expanded with a new cooperation with the Institute for Time-Based Media (Art University Linz) beginning in 2008. Social, societal and political aspects arising from the pervasion of technology in everyday life are shifted into the foreground.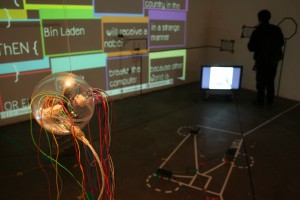 Consequent to a local development, the term "freedom" has been transferred in this context to culture and art, thus engendering a new title: Art Meets Radical Openness.
Art Meets Radical Openness
Festival dedicated to Art, Hacktivism and Open Culture
"Art Meets Radical Openness" is a community festival, an open lab, and a meeting point for artists, developers, hactivists, and idealists involved with the culture of sharing and communal production. They are catalysts that spark new discourses and open up new directions of thinking. Free Open Source Software, open tools in general and the use of free licenses are the precondition and basis for the digital practice of a community like this, which impels social transformation. This tangible transformation goes beyond a digital practice and also changes our real life.